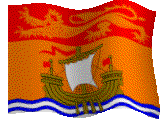 Mathieu D'Amour de Chaufour
The major part of the land covering approx. 250 miles , the area from the mouth of the St John River to Grand Falls NB, was granted to the four sons of Mathieu D'Amour in 1693 who were:

Louis D'Amour de Chauffour
Mathieu D'Amour de Freneuse
Rene D'Amour de Clignancourt
Bernard D'Amour de Pleine

The 1686 census gave Sieur Louis d'Amour de Chauffours aged 31 and his wife Marguerite Guyon Sieur Mathieu d'Amour de Freneuse aged 28 and his wife Louise Guyon The census of 1695 shows De Chauffours had 65 acres of land, in 1694 he had cultivated wheat, peas, Indian corn and oats, he owned 228 bushels , 22 cattle, 50 hogs, and 150 fowls.

Mrs De Chauffours saved her home and stock from destruction by the English who advanced on Fort Nashwaak. Her husband being at sea, she wrote an appeal to the English commanding officer and fastened it on her door, then she was hidden with her children by a boy named John Gyles. She died shortly after 1696 and her sister Mrs Freneuse took her children. Her husband Mr. DeChauffours became a privateer, bying a ketch captured by the famous d'Iverville. His vessel took part in the attack on Fort Pemquid in 1696 and he was later captured by the English and made prisonner at Boston for over 2 years. Two sons of the Chauffours married at Port Royal a daughter Marie Charlotte married the second Baron St Castin, and Josephe married the notorious buccaneer of St Domingo Pierre de Morpaine.