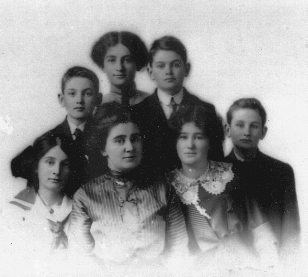 Children of Alex McLennan and Maggie Creighton
Mona and Cyrus at the top, Harry to the left, John to the right, Margaret, Edith and Jean in the front.
(Photo EK Rogan)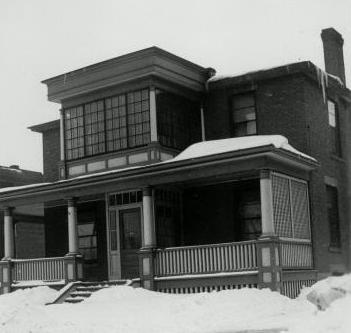 The home of Alex and Maggie Creighton McLennan at 166 Roseberry St., Campbellton
(Photo EK Rogan)

MacLennan Alexander born 1861 died 1939 and wife Maggie Creighton
(photo EK Rogan)


Mona C. MacLennan wife of A.G.Harrington born 1893 died 1933
Margaret H. Creighton wife of Alexander born 1862 died 1935

MacLennan
Cyrus M.C. MacLennan born 1900 died 1938
Sig. Harry A. MacLennan
No. 444984, Enlisted in 55th Can. Batt., June 9/1915, served in France 11 mos. with the 19th CFA,
died in Moore Barracks Hospital, England, Feb. 20/1918, buried here, April 8/1918 aged 19 years. He died for his country.
William J.D. born 1891 died 1892
Mary Jean MacLennan born 1890, died 1961 wife of Edwin Blow Weatherup
Here there are three markers with:
Cyrus Weatherup Jean
Dec. 1927-
Jan. 1928-
also
War stone: 444894 Private
Harry A. McLennan
19th Batt'n CEF
20th Feb. 1918
(discrepency in servie no.. per above)


MacLennan
Henry M. MacLennan born 1872 died 1956
his wife Sarah Jane Bond Nelson born 1879 died 1941
Frederick Maxwell born 1907 died 1909
Ethel Euphemie born 1915 died 1928
markers: Mother Father Fred Ethel
Infant son of Dr. and Mrs D.A. MacLennan
Dr. David Alexander MacLennan born 1904 died 1978

McLennan Engineering Works Ltd
(Photo Harvey's Studio)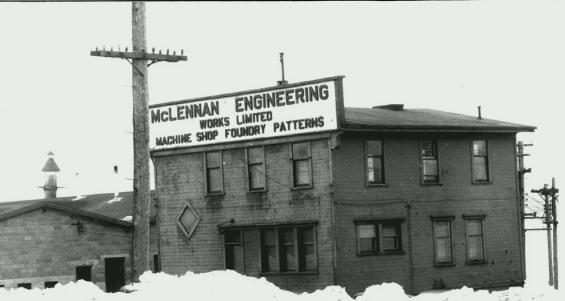 McLennan Engineering Works Ltd. was once the main industry of Campbellton.
It was started in 1888 by Duncan and McLennan Co. and business increased until 1908
when the partnership of Duncan and McLennan was dissolved.
The business was now McLennan's and was re-named McLennan Foundry and Machine Works Ltd.
William Duncan started a Machine shop and Foundry of his own which was first destroyed
by the great Campbellton fire on July 11, 1910. He rebuilt only to be burnt down again
and this time he did not rebuild.
Meanwhile at the McLennan foundry
With the commencement of the first world war, the firm was given a contract
for the manufacturing of shells. They also started the construction of four masted
schooners. But the war ended before they were completed and only one ship was completed.
That ship was named in honor of McLennan's son who was killed overseas, February 20/1918, "Harry A. Mclennan".
The building of the ship was expensive but the firm got through the depression.
With the beginning of the second world war, the company received another contract
again for manufacturing shells. This proved to be profitable for the firm
and it allowed them to hire a large number of men.
In Feb. of 1946, a large part of the plant was destroyed by fire.
The business was rebuilt and reorganised under the name of McLennan Engineering Works Ltd.

Some Family genealogy, courtesy of Ellen Kay Rogan

ALEX MCLENNAN b.1795 d.1857
Came from Scotland. Landgrant in 1821. (?) Miramichi is of Glen ELg.


Children:

Edith b.1888 d.1952 in New Castle, Indiana, USA Female b.1889 (unknown to family)
Mary Jean b.12/23/1890 d.1961 in Campbellton, NB (m. Edwin Weatherup)
William John Duncan b.1891 died in infancy
Mona b.1893 d.1933 in Campbellton, NB (?) (m. Allen Harrington)
Maud Creighton b.1894 (unknown to family)
Margaret b.1895 d.1961 in St. Johns, NB (m. John Gillis)
Harry Alexander b. 4/20/1898 d. 2/20/1918 (died in WWI) buried Rual Campbellton Cemetery L. 35.
Cyrus Murray Creighton b.1900 d.1938 (m. Marian Gillis)
John b.1902 d.1927 in California (m. Dorothy Pickerell) she moved to Chicago, IL

Edith married Jerry F. Burke b.1872 d.1941
Infant
Frances Creighton b.1914 d.1978
Ellen b.1915 d.1936
Katherine Frances b.1916
Harry Alexander b.1917 d.
Mary Currier b.1922 d.

Katherine married Marvin G. Merrill b.1916 d.1984
Ellen Kay b.1941
Michael Wayne b.1953


The Harry A. McLennan, ship built at the McLennan factory which was launched at 2 PM on August 27th, 1919. It was named in memory of one McLennan son who died while serving his country